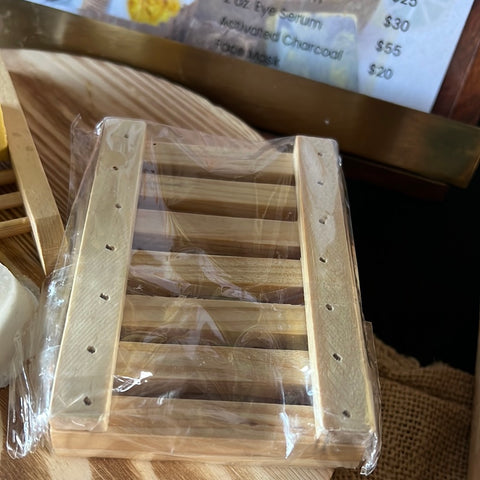 Ebaata Skincare
Wooden Soap Dish
This stylish and eco-friendly wooden soap dish is perfect for storing and displaying your natural and organic soaps, while keeping them dry and looking their best.
Indulge in the essence of nature with our beautifully crafted wooden soap dish, thoughtfully designed to enhance your self-care routine. Made with love and care, this eco-friendly accessory is the perfect match for your collection of natural and organic soaps. Not only will it keep your soaps dry and looking their best, but it also adds a touch of elegance to your bathroom or kitchen.

Why Choose Our Wooden Soap Dish?

🌱 Crafted with Care: Each soap dish is handmade with attention to detail, ensuring a product that reflects our passion for natural skincare. Made from high-quality, sustainable wood, our soap dish is not only eco-friendly but also durable, guaranteeing long-lasting beauty.

🌱 Gentle and Loving: Unlike plastic or metal alternatives, our wooden soap dish cradles your soaps in a gentle embrace, allowing them to breathe and dry naturally. This prevents mushy soap, extending their lifespan and ensuring you get the most out of every bar.

🌱 Aesthetically Pleasing: Add a touch of natural beauty to your bathroom or kitchen with our stylish soap dish. Its sleek, minimalist design effortlessly complements any space, creating a serene ambiance that promotes tranquility and relaxation.

🌱 Sustainable and Eco-Friendly: At Ebaata Skincare, we're committed to preserving the beauty of our planet. Our soap dish is made from renewable wood sources, reducing waste and promoting sustainability. By choosing our wooden soap dish, you're making a small but significant contribution to a greener future.