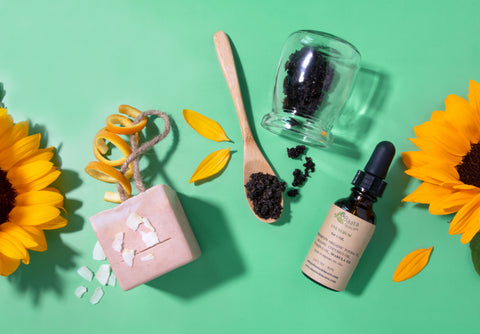 Ebaata Skincare
Ebaata Skincare Summer Bundle
Revitalize Your Skin for the New Season with Ebaata's Summer Bundle
Bundle & Save $18, when you add to cart...
Here's how to enhance your natural beauty with Ebaata Skincare this SUMMER in just 3 simple steps:

Cleanse: Start by cleansing your face and neck with our Vibranium Bar Soap. Gently lather the soap, rinse with water, then pat your skin dry with a towel.

Serum: After cleansing, apply a small amount of our Ebaata Eye Serum to the under-eye area. Gently pat it into the skin using your ring finger. Watch as the nourishing serum reduces puffiness and fades fine lines and dark circles.

Moisturize: Complete your routine by applying our Lavender Souffle Butter all over your face and neck. This luxurious shea butter moisturizer deeply hydrates and nourishes your skin, leaving it soft and supple. Massage a small amount into your skin using gentle, upward motions.

Unlock your natural radiance and indulge in the beauty of self-care with Ebaata
Benefits include:
Nourish and cleanse face and body
Helps lock in moisture
Alleviate dry skin
Soothes seasonal body ash and itch
What's included in this Bundle:
One Vibranium bar soap 
One 4oz Lavender Souffle 
One 1oz Eye serum
Ideal to:
Cleanse

Rejuvenate

Repair your skin as you transition from cool to hot weather
How To Use
Facial Routine
Wash your face and neck with the soap

Apply Marula Eye Serum around the eye area and face
Finish off with the Shea Butter cream.
For Body
Wet hands and rub soap on wet hands and use directly on the body
rinse 
Use Coffee & Sugar to polish your body, then rinse off before getting out of the shower
Pat dry with a towel
Finish off with the Shea Butter cream.