Essential oils improve skin health by moisturizing, protecting, and providing antibacterial and anti-inflammatory benefits.

Plant Based and Clay Colorants
Using plant-based and clay colorants in skincare products promotes natural, safe, and effective solutions for a radiant skin.

Carefully Research Ingredients
Careful ingredient research is vital for effective skincare. Choosing quality ingredients can enhance results and protect your skin's health.
NO harsh chemicals, synthetic fragrances or toxic colorants.
We believe in the power of nature to nourish and rejuvenate the skin, which is why we only use healthy, high-quality ingredients in our products. 
Our Promise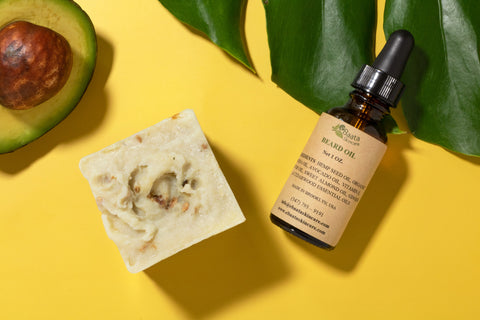 Our handcrafted natural soaps and lightly scented body butter creams are carefully crafted to cleanse, exfoliate, and nourish skin. Use our products to protect and nourish your baby's skin too, without having to worry about side effects caused by harsh chemicals.
We take great pride in our attention to detail and the care we put into each and every one of our products. We are confident that our natural and organic ingredients will leave your skin feeling healthy, hydrated, and soothed. 
We promise to provide you with the highest level of care and attention to detail in all of our products, and we are dedicated to helping you achieve your skincare goals.
At Ebaata Skincare, we are dedicated to providing our customers with the highest quality, handcrafted bath and body products made from only the finest organic and natural ingredients. Our products are safe for sensitive skin and formulated to alleviate dry skin conditions such as eczema, psoriasis, and athlete's foot, reduce skin irritation and soothe affected skin.
How to Use Our Natural Skin Products
Follow these guides on how to use our skin products
How to use our eye serums
Use on freshly washed face
Step 1: Ebaata eye serums are easy to apply. Squeeze the top of the dropper, and release 4 - 6 drops onto the palm of your other hand.
Step 2: Dab a little oil on  your ring finger and gentle apply the serum underneath your eye and slow around the eye area.
Step 3:  You will have some serum left so you can apply whatever is left all over your face. Follow these steps daily and you'll notice the dark circles start to fade away.
How to use our soothing creams
We have a selection of 6 scented and 1 unscented Smoothing Creams
Step 1:After washing your body or hand use the Shea butter creams to enhance and alleviate your skin.
Step 2: Scoop butter cream as needed, a little goes a long way. The Shea butter will melt at the contact of your skin.
Step 3: Apply on your face or body. Make sure you repeat these steps twice a day.
How to use our bar soaps
Step 1:Wet your hands and rub the soap in between your hands.
Step 2:  Use lathered hands straight on your body or face.
Step 3:
Rinse and pat dry. Perfect for both morning and evening routine.
How to use our exfoliating coffee scrubs
Step 1: Our coffee and sugar scrubs hydrate and moisturize the skin. Wet the hands and face and pat it with water gently. This will help your skin retain moisture.
Step 2: Scoop a little on the pinky finger and place it on your hand. Rub around eye area to increase hydration and on any other dry spots you scrub gently.
Step 3: Take what's left in your hand and scrub your whole face with it. Rinse face until you feel the scrub is off. Use daily during cold season.
How to use our exfoliating facial masks
Step 1: Mix 1 tablespoon of powder with +/-10 drops of water until a paste forms.
Step 2: Apply to clean skin/on face.
Step 3: Gentle massage with fingertips or brush in circular motion to activate exfoliants.
Step 4: Leave about 15 minutes, or until the mask is slightly dry.
Step 5: Rinse off with warm water.
Step 6: Pat dry with a soft towel.
Apply any of our lightly scented Shea Butter Face Creams
Recommended for use 1 - 2 days a week
About the Founder
I used to struggle with dry and itchy skin during the wintertime and blend together different products to get the mixture "just right" – not too thick but not too thin. I was a fashion designer in NYC at the time, but started seriously experimenting with a Shea butter formulation using ingredients intended to soothe, repair, and nourish my skin. As a fashion designer, I had extensive knowledge of the ingredients that go into fast fashion and their negative impacts on the skin, so it was easy for me to apply my experience of researching and sourcing natural fiber fabrics to developing an all-organic skincare product. 

One year later in 2017, I decided to fully transition into the beauty care industry and launch my small business with Shea butter as the first product. 
Three years later, Ebaata Skincare has expanded from Shea butter into all-natural, handcrafted soaps and other products, using the same principles of no harsh chemicals, synthetic fragrances, or toxic colorants. 
While I leverage my fashion design background to create cohesive and visually appealing products, Ebaata Skincare goes beyond aesthetics – our products span across the needs of the whole family, and provide the right consistency at a reasonable price, while staying true to our promise of no fragrance oils and unnatural dyes.
As a black-owned business owner, it is also important to me to help keep the circulation of money and opportunity within my local community and help to nourish and grow it in a sustainable and holistic manner. Through Ebaata Skincare, I have created a space that I am proud of and will continue empowering my customers to have more control and influence over their purchasing decisions.
---- Phumie Kunene
Testimonials
What our clients say
Nerissa M.
Ebaata Skincare Customer
"...OMG! I am absolutely in love with the eucalyptus and orange. During this coronavirus pandemic, it has provided a wonderful and suitable substitute to regular hand sanitizer."
Lisa
Ebaata Skincare Customer
"I needed some good quality soap for my sentitive skin and was pleased to walk home with many lemon scented varieties. They lather nicely, my skin reacts well, and..."