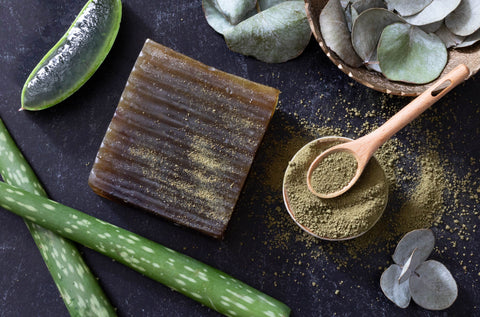 Ebaata Skincare
Vibranium Bar Soap
This is loaded with wholesome ingredients, that were carefully selected to moisturize, nourish while cleansing the skin.
Moringa powder is loaded with nutrients such as Vitamins A, B, C, D, E, Iron, Zinc and Magnesium, and also contains anti-aging and antioxidant properties. These properties and cleansing abilities allows the bar soap to detox, clean the skin cells off free radicals, stores and rejuvenates youthful glow.
Aloe Vera is a great moisturizer, fights anti-aging, balances oily skin and treats acne.
INGREDIENTS: ALOE VERA, GLYCERIN, COCONUT OIL, EXTRA VIRGIN OLIVE OIL, CASTOR OIL, SODIUM HYDROXIDE, PURIFIED WATER, BLACK TEA, SAFFLOWER PETALS, MORINGA POWDER, EUCALYPTUS & ORANGE ESSENTIAL OILS